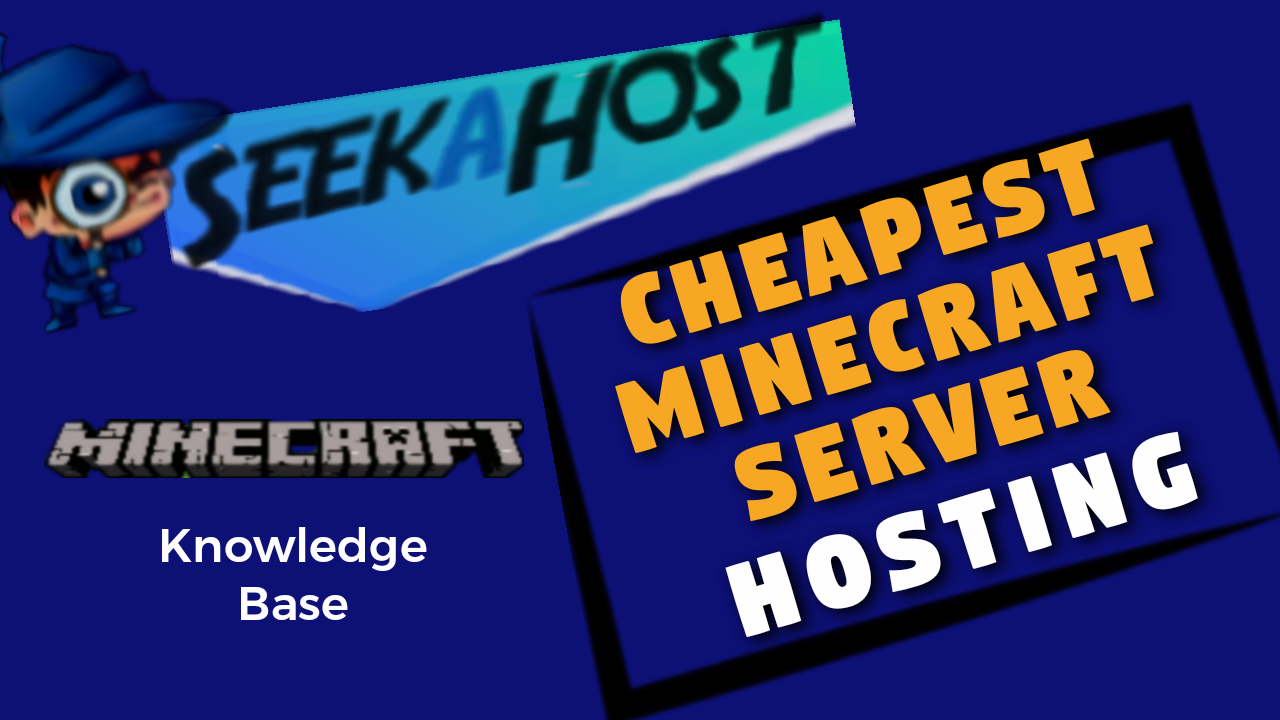 Get Cheapest Minecraft Server Hosting Prices with SeekaHost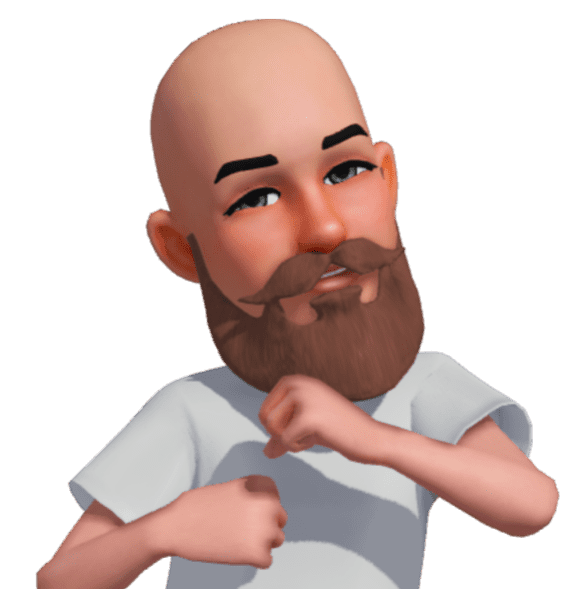 By James Flarakos | October 25, 2021

Get Cheapest Minecraft server hosting prices?
With Minecraft being one of the top-selling games around the world, there is of course much demand for multiplayer servers. That's why it is important to shop around for the cheapest Minecraft server hosting so you do not pay too much every month.
Here at SeekaHost, we understand you might still want to play a server even on a budget. So not only do we have some of the cheapest prices from all major competitors. But we have also increased the varieties of packages you can choose from. So if you want a small server, a large one or any size in the middle that's possible.
Pricing of Minecraft Hosting Packages
$2 – 1GB Minecraft server, allowing up to 4 players to join.
$4 – 2GB Minecraft server, allowing up to 12 players to join.
$6 – 3GB Minecraft server, allowing up to 24 players to join.
Our first tier of cheap Minecraft server packages is perfect for those only wanting to play with a few other players, up to a medium group of players. You still have every function that the other server packages get just less memory. If your world size or player size starts to grow you can then increase the ram to your server by upgrading the package easily from your client area.
We recommend having at least 1GB per plugin for java servers for them to run efficiently with players on and also 4GB or larger for servers that are running Modpacks.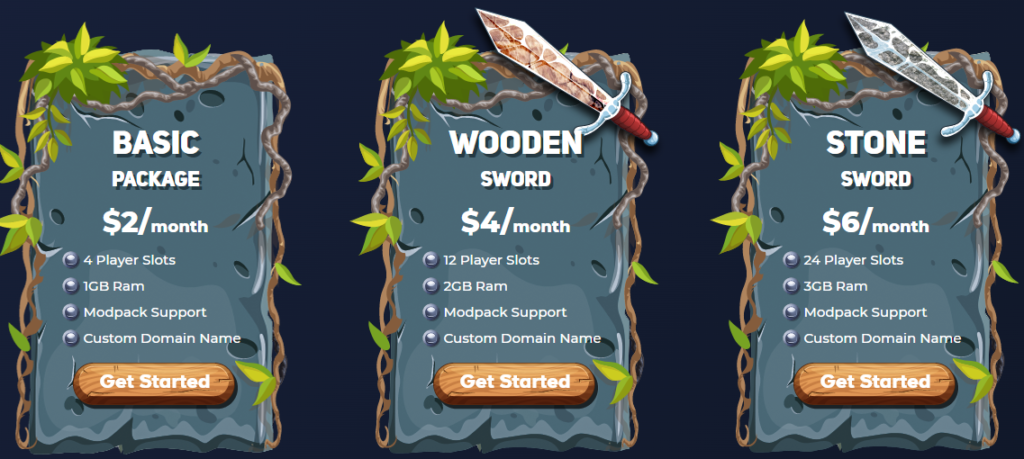 $8 – 4GB Minecraft server, allowing up to 36 players to join.
$12 – 6GB Minecraft server, allowing up to 48 players to join.
$18 –  8GB Minecraft server, allowing up to 60 players to join.
Our second-tier packages are for medium to larger sized servers. As you can see these are some of the cheapest Minecraft server hosting prices with only $8 for a 4GB server, enough to play even larger Modpacks like Sevtech Ages.
Going up to 8GB, allowing you up to 80 players and enough to load up plenty of mods, plugins, custom maps or anything else you might want to add to your server.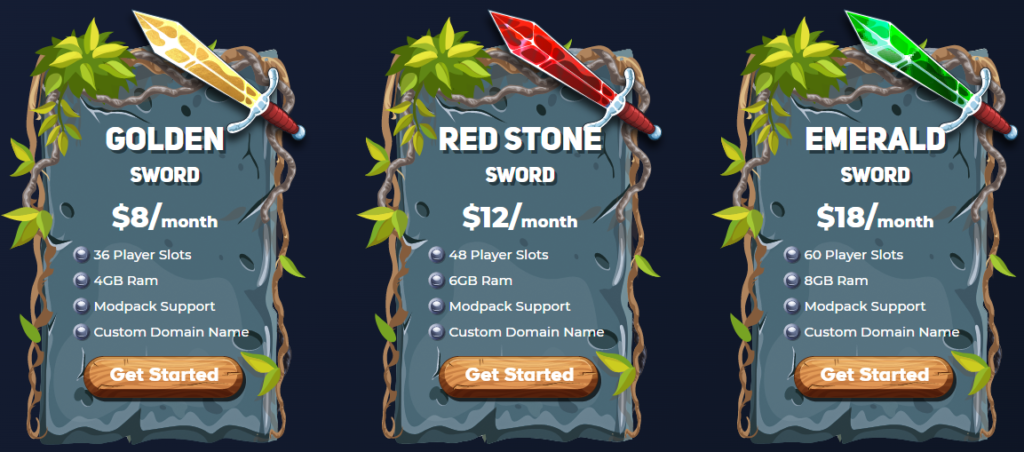 $24 – 10GB Minecraft server, allowing up to 72 players to join.
$26 – 12GB Minecraft server, allowing up to 84 players to join.
$36 – 16GB Minecraft server, allowing up to 108 players to join.
Our third tier packages are for larger servers in general. This is perfect for large public servers, for anyone wanting to run multiverse and have different worlds that players can teleport to. Running the largest Modpacks with a good amount of players still able to join. And for bedrock servers that have loads of players and commands running in the background.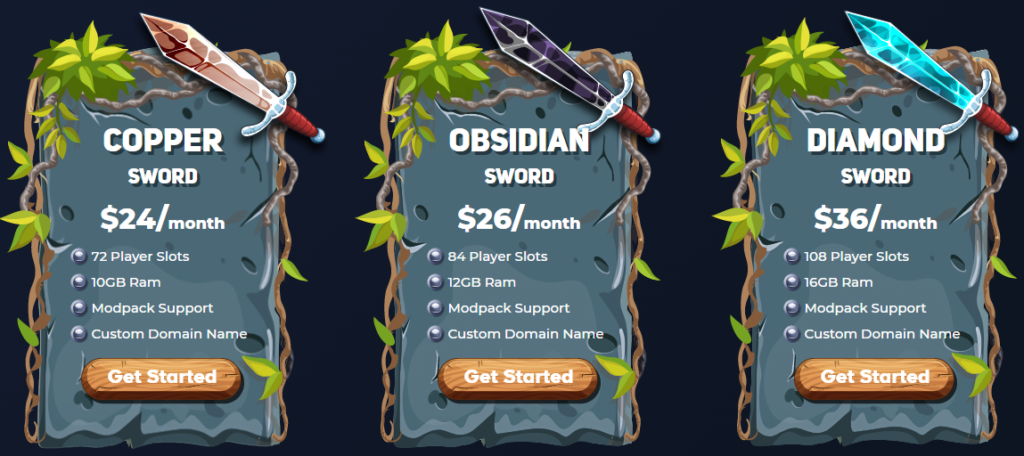 Modded Minecraft Server Hosting
We understand that players also love to experiment with the mods and Modpacks that Minecraft and the developers have created. With a huge variety of free mods for Java edition, it's great to have a server that you can host with your favourite mods and Modpacks.
With SeekaHost Modded Minecraft server hosting you can choose to change your server type to forge or fabric, and upload any mods yourself. This can be done easily using our guide below.
Another option is to select one of our Modpacks listed in the server jar options and all the installation will be done for you. We have added some of the most popular Modpacks and we are currently in the process of adding more.
Lastly, if you haven't got much experience with modding server you can also ask our customer support team and we will install the modpack for you to your server.
Best Minecraft Server Hosting
What makes us stand out from the rest of the hosting companies is that we truly care about our customers. From help with server setup to custom modpack installation or call back requests. We want you to get the best out of your service here with us.
We provide Bedrock servers, Java servers in all the additions (If you see a jar type you want to use not listed, simply ask us and we can get it installed for you) we are adding Pocketmine servers and of course the popular Modpacks you can choose form.
We strive to be the best Minecraft server hosting company and that starts with customer satisfaction. If you have any requests and queries feel free to send us an email, request call back or create a ticket and we will be happy to try and cater to your needs.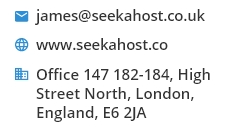 Get Started With SeekaHost Today
So let's get you started with the Hosting packages. Once you have selected the one for you, simply complete the payment and your details for your multicraft login will be sent to you!
Happy crafting!
Author Profile

I love to make Minecraft content, and easy quick tutorials for others to use. And you can see more video and tips at www.jdogofficial.com