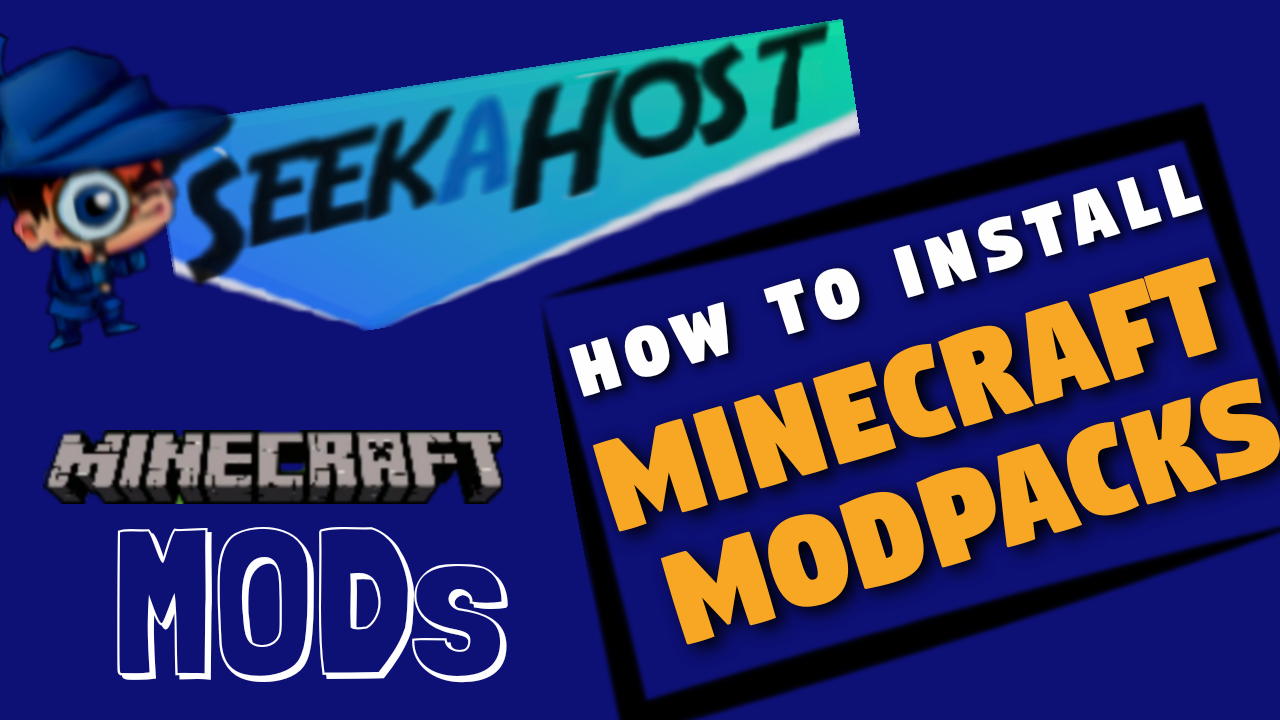 How to Install Modpacks to your Minecraft Server on SeekaHost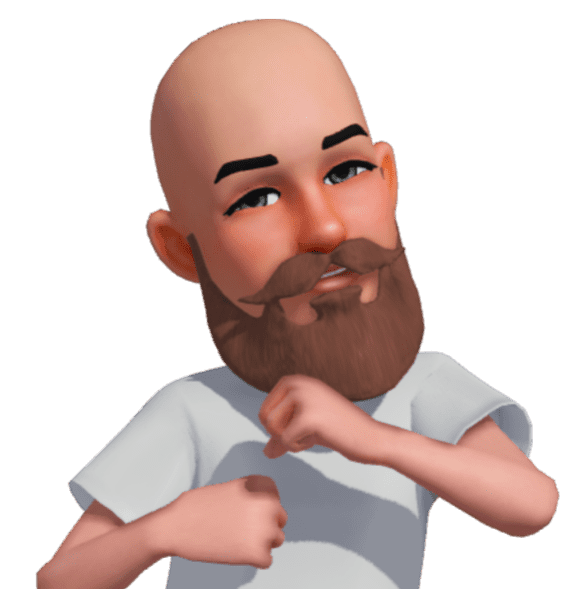 By James Flarakos | June 24, 2021
Using our 1 click Modpacks Installation your able to load many of your favourite Modpacks straight onto your Minecraft server.

Table of Content
Preparing Your Server for The Modpacks
So before we install anything on the server, we need to make sure thats its prepared for the modpack as this is where a lot of people unknowingly make an early mistake.
Create Backups of Minecraft World
If you want to keep your old world or even the entire server then you need to make a back up at this point. To just save a world, stop your server and make a backup. You can do this by going to the Files > Backup and then tapping on Start.

Once its finished you can download the file through your FTP acess. To do this from your main dashboard go to Files > FTP File Access > Login and then select the back up file (it will be the world name as a zip) for example "world.zip" Then click download to download it to your PC.
Create Backups of Entire Server
You will need FileZilla for this as the online FTP file access will struggle with that many files at once.
Connect to FileZilla using your FTP information on multicraft for that particular server.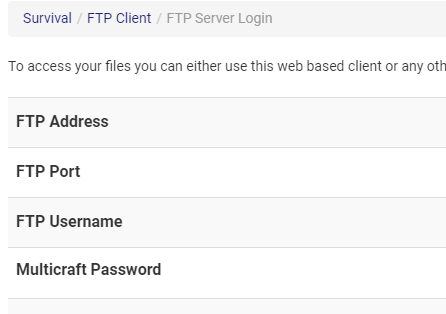 Once connected simply highlight all the files on the server (from the right hand side) and drag them to a folder on your PC (the left hand side) We would also recommend compressing the folder into a .zip to save space on your PC untill you use it again.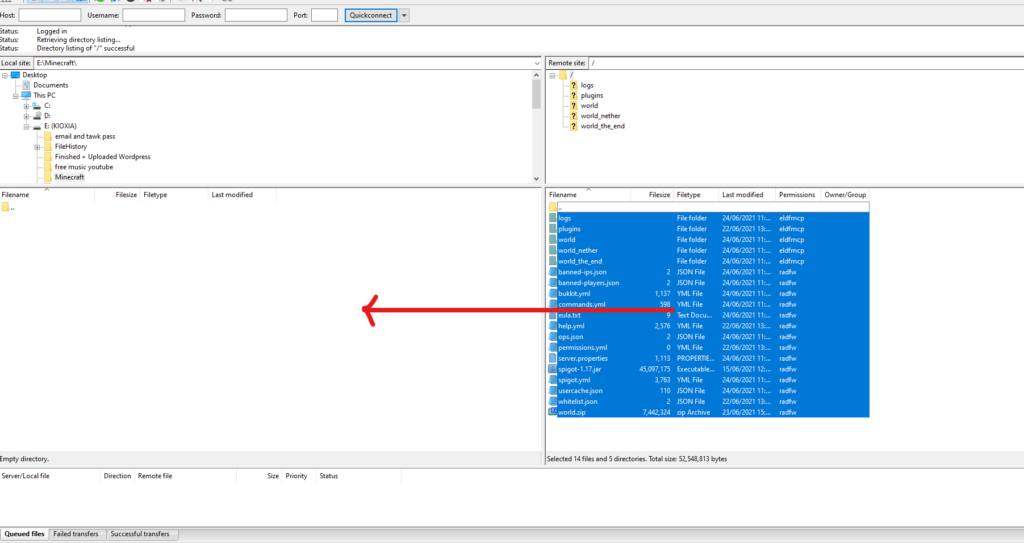 Deleting Old Server Files
The reason we delete old server files before installing a new type of server is to save from any mixed up files when we load the modpack. If you have a Java.16.5 jar and all the plugins installed from your last server and then you load up a 1.12 modpack with mod folders and different libraries its likely to make the server not work.
Make sure your server is stopped before deleting any files.
Delete Files With FileZilla (recommended)
The way we recommend for you to delete your old server files for the mod pack installation is with FileZilla. For a video on how to use FileZilla click here.
To do this just connect up using your servers FTP File information from your multicraft and select all the files on the server. Now simply hit delete and you will soon have an empty server.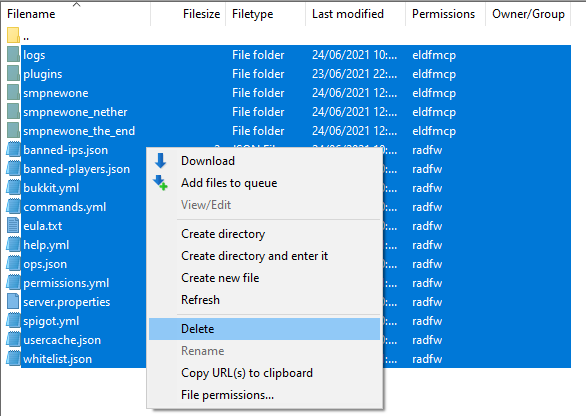 Delete Files With FTP File Access
To delete your Minecraft server files with the online FTP access. From your multicraft dashboard go to Files > FTP File Access > Login. Now select All on the top left and the the Delete button to delete all server files.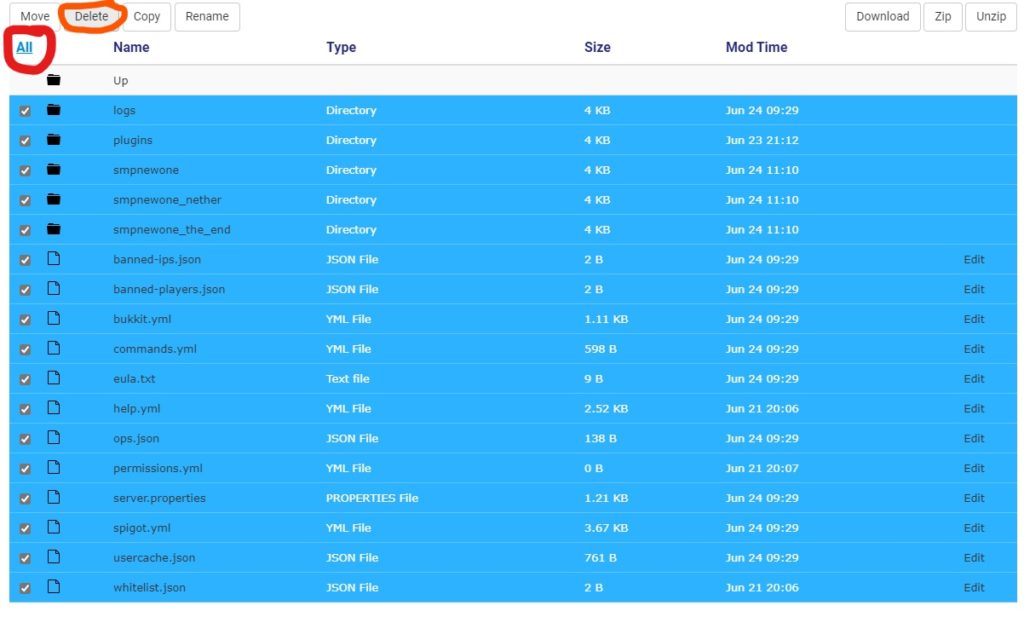 Delete Files Through Setup
Another way to delete your server files is by using the setup option. To do this, choose the modpack from the multicraft dashboard Jar option.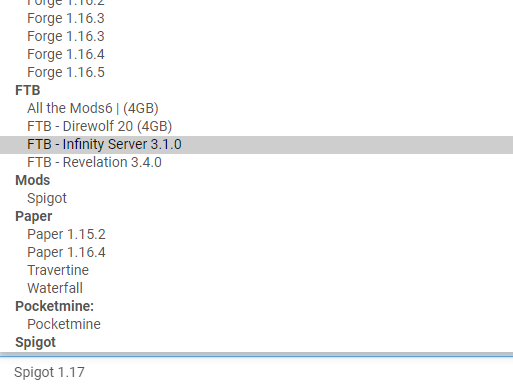 Once you have chosen the modpack you want to play go to Setup. To get here from your multicraft dashboard go to Files > Setup. Now from the drop down menu choose Configure Server For MOD. And check the Delete all Server Files underneath.
Now when you start your server back up it will delete old files and configure it ready for the mod pack. The only reason I dont recommend this first is because multicraft can sometimes struggle to delete huge documents with out timing out. So we recommend using FileZilla for easy of use no matter how large files are.
Install Modpack To Your Minecraft Server
Once your server is completely prepared and you have taken any backups you needed. It is now time to install your Minecraft Modpack to your server.
Select The Modpack
From the main multicraft dashboard you can now select the modpack you want from the jar files. Once selected make sure to tap save at the bottom of the page.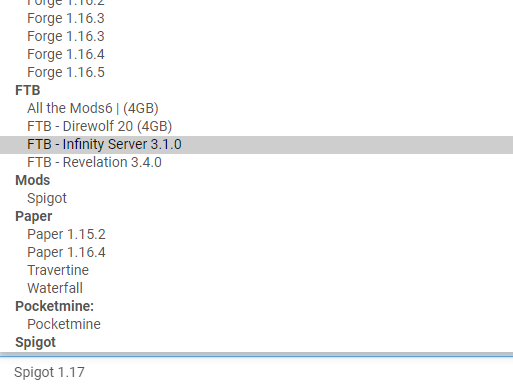 From your multicraft dashboard, go to Files > Setup. Now from the drop down menu choose Configure Server For MOD.
Once selected you can go back to the main dashboard and start your server.
If you want to change any of the server settings, we recommend doing this before you start the server back up.
Get Ready to Play
Now that your modpack is downloaded it time to get some knowledge on the different mod packs. You can find a list below of many of the popular modpack wiki's.
How to Move Your Server With FileZilla
How to Install FTB Revelation Modpack
Play with the amazing FTB Revelation mods on your single player worlds and also your Minecraft servers. Easy installation that will get you playing with your friends on a server. To use the CurseForge launcher follow the link below and use the 1 click installation to install the modpack as in the tutorial. To install it on your server you will need to delete old server files first and then select the correct jar (modpack) you want. Then simply change the setup options and restart your server to play the modpack with friends online.
How to Install Roguelike Adventures and Dungeons Modpack
How to install R.A.D. to your PC using the Curse Forge launcher. This enables you to install or delete whole mod packs and with a single click. I find it to be the most efficient and user friendly way to install mods and play with them as it takes out the need to install forge jars and finding all the mods separately. We then show you how to install it to your Minecraft server with a few clicks. Stop your server. Then select the correct jar of Roguelike Adventures and Dungeons from your main dashboard. Go to files and then setup and select Configure Server for Mod. We also suggest to delete all files by checking the box underneath and then tap apply. Once you start your server back up your going to be able to join! Happy crafting.
Author Profile

I love to make Minecraft content, and easy quick tutorials for others to use. And you can see more video and tips at www.jdogofficial.com