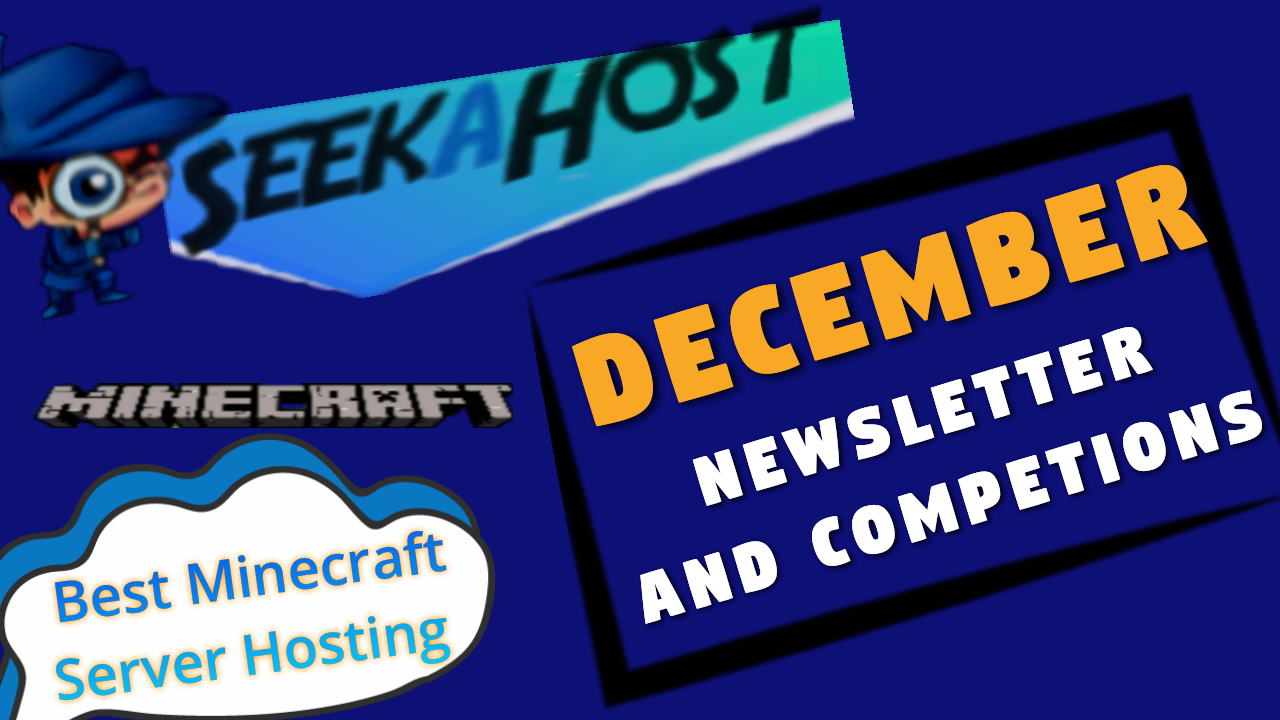 SeekaHost Minecraft Servers December Newsletter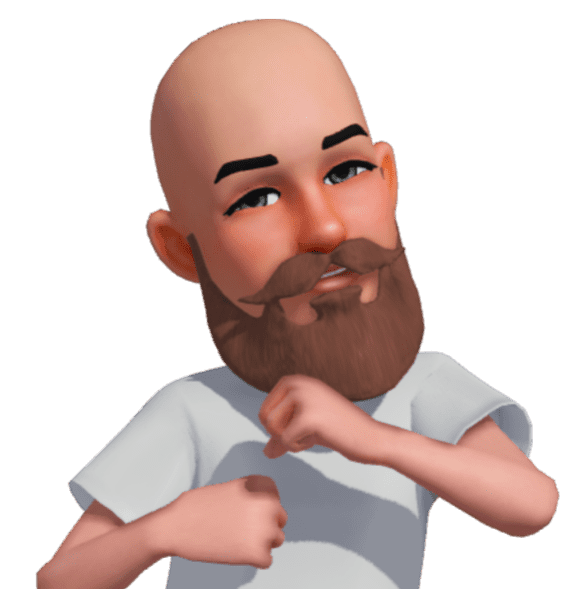 By James Flarakos | November 30, 2021

Welcome to the first of our monthly newsletters.
Get the latest news and updates happening with SeekaHost, competition or past winners and other Minecraft related news.
November Competition
We started off our first competition last month to create our SeekaHost logo but in Minecraft. We just wanted to see the creativity and versatility between everyone's designs as you are able to create so much from just simple blocks.
With so many different colours and textures you can really make anything as long as your imagination can create it. Our prize for this month's winner is 2 months free hosting and an awesome SeekaHost T-shirt.
All competition entries can be left on our discord, and you can use this channel to also view other entries that have been made.
So let's get down to our winner for this month!
The Winner!

Well done Literally just cheese! We absolutely loved the work put into this design. At first it gives you the impression of a fairly simple build until you look closer at the background.
You can then see how the biomes are merging from one corner to another, going from the snowy tundra, to the desert, the nether and even under water biomes. Not only do you have the biomes behind the SeekaHost logo but they have all been decorated with a super realistic Minecraft world generation as if they have been taken straight form the biome and placed section by section next to each other.
It just goes to show the versatility of Minecraft and what you can create! You can also find announcements about competition winners on our Facebook page.
Prize
2 Months Free Hosting and an Awesome SeekaHost T-shirt are on the way to you Literally just cheese! And thank you for your great work!
The December Competition
So, with November over, let's look at the new competition for December!
This month we have changed the challenge completely and made it more in-game. Join our SeekaHost Minigames server and rank top on Villager Defence to win this months competition prize of a fully paid for Minecraft Java Edition Game.

This is perfect if you're after a Christmas present for family or a friend. Perhaps to have a second account to use or whatever else you might want to do with a Java Edition Account.
This is in form of a digital download rather than a hard copy, and the competition runs until the last day of December. So make sure to get playing and scoring high!
For more details on the competition and how to enter please click here.
Our New Minecraft Minigames Server
As you might have noticed from the above competition we have started up our new Minigame server. You can play from a variety of single or multiplayer games with others.
This is primarily for our SeekaHost Minecraft community and users but also for anyone new looking to see what you can do with a SeekaHost server. You can find more information on the Minigames below.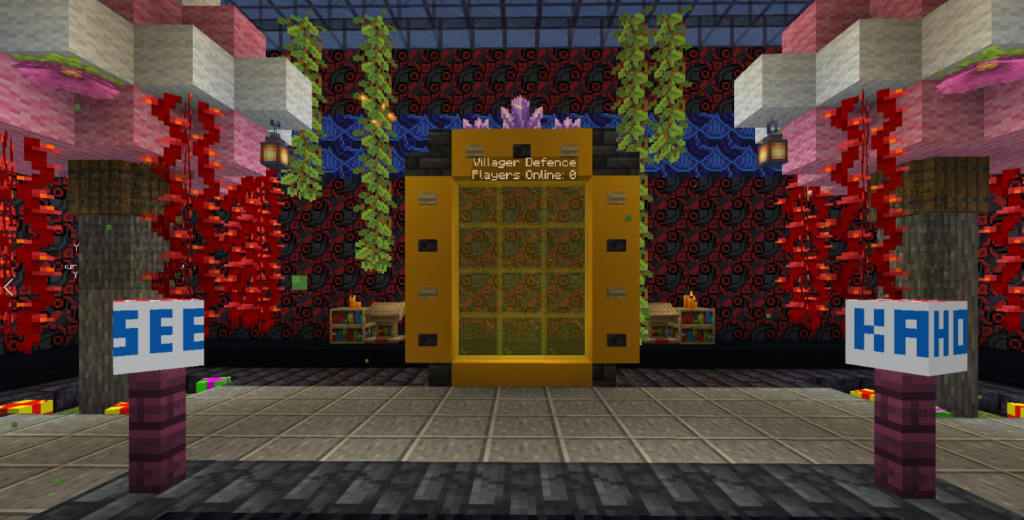 Villager Defence 1 -10 Players Survive waves of zombies and keep all your villagers alive. Unlock kits the more you progress. Buy upgraded weapons from the villagers. Buy wolf or golem helpers. Play on your own or with friends.
Murder Mystery 2-10 players Players with up to 10 players and try to guess stay alive from from secret murderer. Become a Murderer, Detective or just regular player. Pick up gold to spend on the magic cauldrons or enchantment tables for helpful bonuses. Survive the time limit or kill all the victims to win
Build Battle 2-10 Players Compete against friends to build the most impressive design. End spectating and voting to select the winner.
Bridge Battle 2-10 Players Start or either side of the bridge with your team and try to score by getting to the enemies side and jumping into their score area. Tower, build or whatever tactic it takes to win!
Skyblock Play alone or team up with friends. Create an ore generator, upgrade your island, buy and sell from the island shop in this fully immersive Skyblock minigame.
More Packages To Choose From
We understand that many of you have different intentions for your server, so we have increased the choices you get with our server packages to make sure you get the perfect Minecraft server package for you.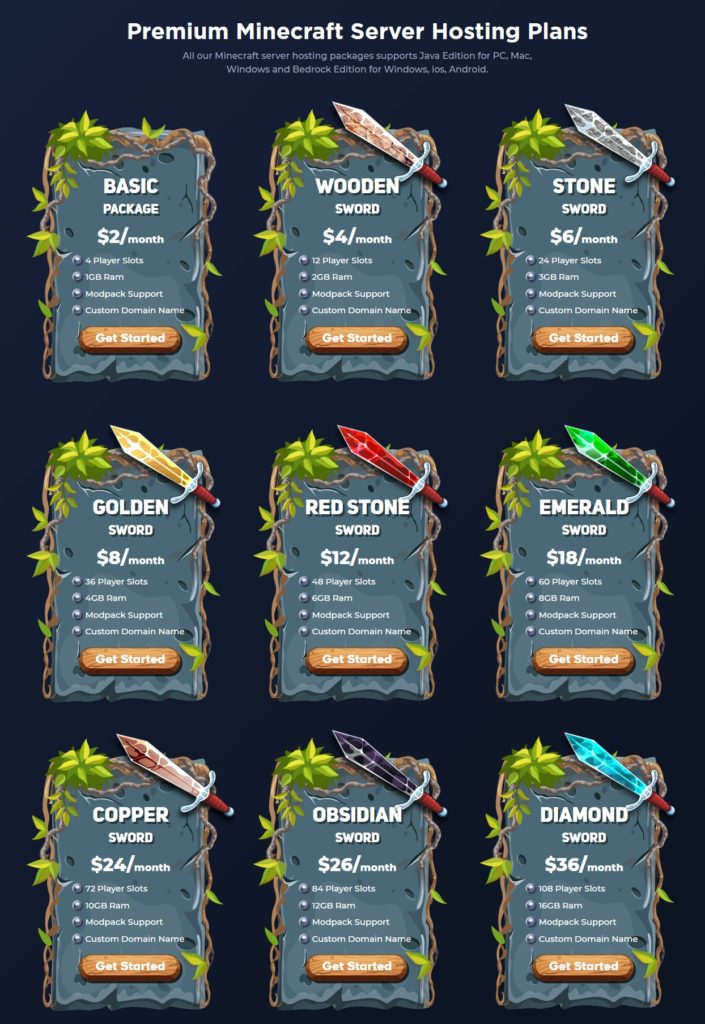 Cheapest Minecraft Server Hosting
And not only do we have more packages to choose from but we have also made our prices some of the best around. Meaning you can get a cheap Minecraft server for as little as $2 per month. All the way up to a whopping 16GB server for as little as $36 per month.
What's In Store For This Christmas?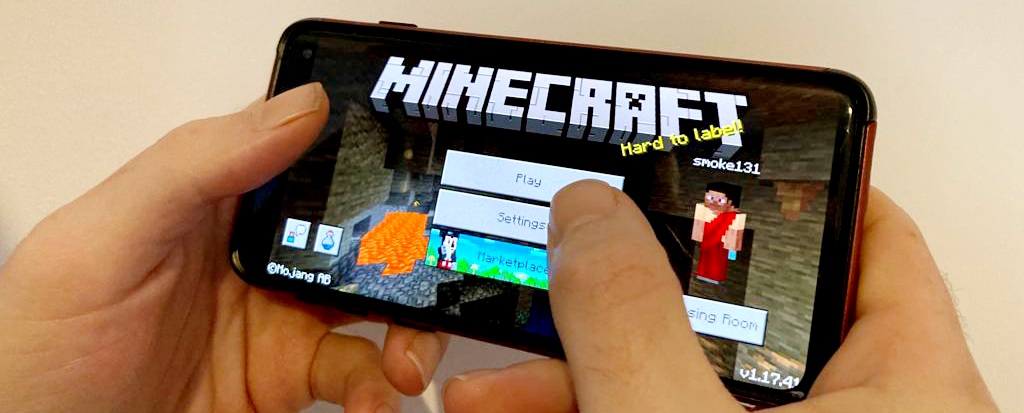 Love to play Minecraft on your Mobile Phone? Playing on a Minecraft server with friends has never been easier with easy connection from mobile device to Minecraft servers.
And here at SeekaHost we are working hard to make sure that everyone can get online and create their own Minecraft community. We are working on and are looking to get Pocketmine servers installed by the end of December.
Meaning that you can log in with Bedrock and play with others using a variety of devices but also get the extra features that Java gets such as plugins to use with your server.
The plugins you get for Pocketmine can drastically change your world type, from adding mobs, minigames, antic cheats and many other features you usually get with a Java server only.
Minecraft 1.18 Caves and Cliffs Update
We are all super excited about the new update. Releasing today, we want everyone to enjoy the experience as soon as possible and here at SeekaHost we always aim to get it added to your servers the very same morning it comes out.
Some advice we have for anyone wanting to bring over old spawns to use Amulet and reset the chunks around spawn. Meaning that you can start your new Minecraft experience with your same spawn but with the new world generation going on around you!
Get Yourself Online Today With Cheap Minecraft Server Hosting
Here at SeekaHost we are dedicated to getting you the best service possible, for as little as possible making it an affordable option for almost anyone wanting to play online with others using a Minecraft server. Take a look at our packages here and grab yourself a deal!
Author Profile

I love to make Minecraft content, and easy quick tutorials for others to use. And you can see more video and tips at www.jdogofficial.com